[email protected] Technology Park, (Odon) Indiana — Representatives from Naval Support Activity Crane and its neighboring communities signed a Memorandum of Agreement (MOA) today to formalize a commitment to open lines of communication and increase collaboration.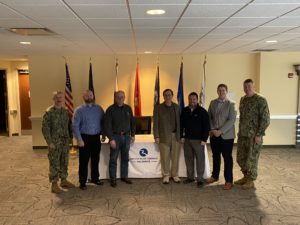 The Navy Region Mid-Atlantic, Naval Support Activity Crane, the White River Military Coordination Alliance, the five counties neighboring Crane—Daviess, Greene, Lawrence, Martin, and Sullivan—and two incorporated towns within three miles of the installation—Town of Crane and City of Sullivan—signed the MOA. The MOA will help ensure community growth that is compatible with and supports the military missions of NSA Crane.
"The Alliance and this memorandum are large steps in preserving not only the military's mission but also helping to foster compatible growth in the surrounding community," Timothy J. Powers, Commander, NSA Crane. "Much of our workforce is from and lives in the areas represented by the Alliance, and they, too, benefit from our efforts in making Indiana a better place to live as well as work."
The agreement details necessary communications between NSA Crane, the Alliance, and Alliance membership communities, including increased military impact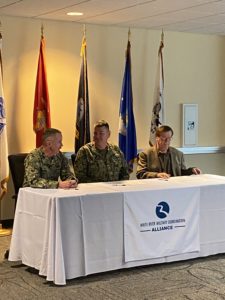 notifications. NSA Crane agreed to give notice of known increased impacts to established points of contact in each community, and the Alliance will post notice to its website and social media.
The Alliance will also create and host a community event calendar on its website where points of contact from NSA Crane and neighboring communities can submit public events and other opportunities for building Crane-community relationships.
Key commitments formalized in the MOA include:
Crane and the community agree to discuss any land use application and monitor land use changes.
Crane agrees to give notice of known increased military impacts associated with activities at Crane.
The Alliance agrees to maintain a public calendar that provides opportunities for collaboration between Crane and the community and to provide information about land conservation incentives and easement acquisition opportunities on its website.
Local governments agree to provide notice to and consider input from Crane regarding construction of capital improvement projects located near the installation and to notify Crane of potential incompatible development proposed near the installation.
The signing followed the first-ever State of the Community briefing given by Gene McCracken, chair of the Alliance, during the Alliance's first-quarter meeting. McCracken addressed opportunities for Crane to increase its presence in neighboring communities and opportunities to share knowledge and resources.
"Today marks a historic milestone for the Alliance, for NSA Crane, and for our local communities," said McCracken. "We hope these efforts provide a clearer picture of how Crane can take a more active role in strategic planning, development opportunities, and community events, and how our communities can collaborate more closely with Crane to identify opportunities for mutual growth and prosperity."
About the White River Military Coordination Alliance
The Alliance is a community organization that was formed in 2018 to promote positive development and growth in the communities that surround Naval Support Activity Crane and Lake Glendora Test Facility (Daviess, Greene, Lawrence, Martin and Sullivan counties) by facilitating two-way communication between the communities, counties, state agencies, and NSA Crane. The focus of our 24-member alliance is to create opportunities for economic prosperity and land conservation in the region, safeguard Crane's military mission, and protect community health and safety. We would encourage the community to take our survey about Crane at WRMCAlliance.com. Follow the Alliance on Facebook, Twitter, and LinkedIn.