Intergovernmental Support Agreements (IGSA)
Intergovernmental Support Agreements (IGSAs) are collaborative partnership agreements for services, material procurement, and mutual support that can enhance operational effectiveness. They can create better efficiencies or economies of scale while reducing costs and providing economic benefits to the community, state partners, and the Navy. IGSA's benefit the Navy by improving the quality of support services that enable the mission, sailors, and family readiness. Military installations are like small cities that provide a variety of services which are very similar to what our surrounding cities and towns provide. By utilizing IGSAs as a tool, the military can partner with outside agencies to take advantage of higher quality services and costs savings by leveraging each other's strengths and continuing to build strong community relationships.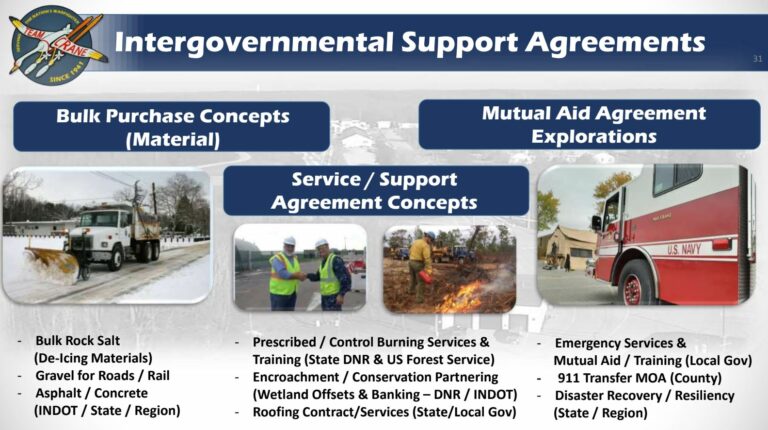 During the 2020 State of the Installation Address, NSA Crane provided the Alliance with a number of opportunities to get involved in Public-Public Public-Private partnerships. One very successful example of this P4 process in action is the recent 911 MOA, which created the partnership between emergency response entities and is improving the safety and care of those on base and in the surrounding communities. The following areas have been identified by our communities as areas of interest to explore these collaboration efforts: 
Health and Wellness Supplies

Bulk Material Purchasing Agreements

Mutual Aid for Emergency Services

Transportation Maintenance

Sanitary Infrastructure

And Service Agreements
The Secretary of the Navy is authorized to enter into a sole source IGSA with a State or local government for installation- support services. This may occur if the Secretary determines that the agreement will serve the best interests of the Navy by enhancing mission effectiveness, or creating efficiencies or economies of scale, including by reducing costs.
IGSA Benefits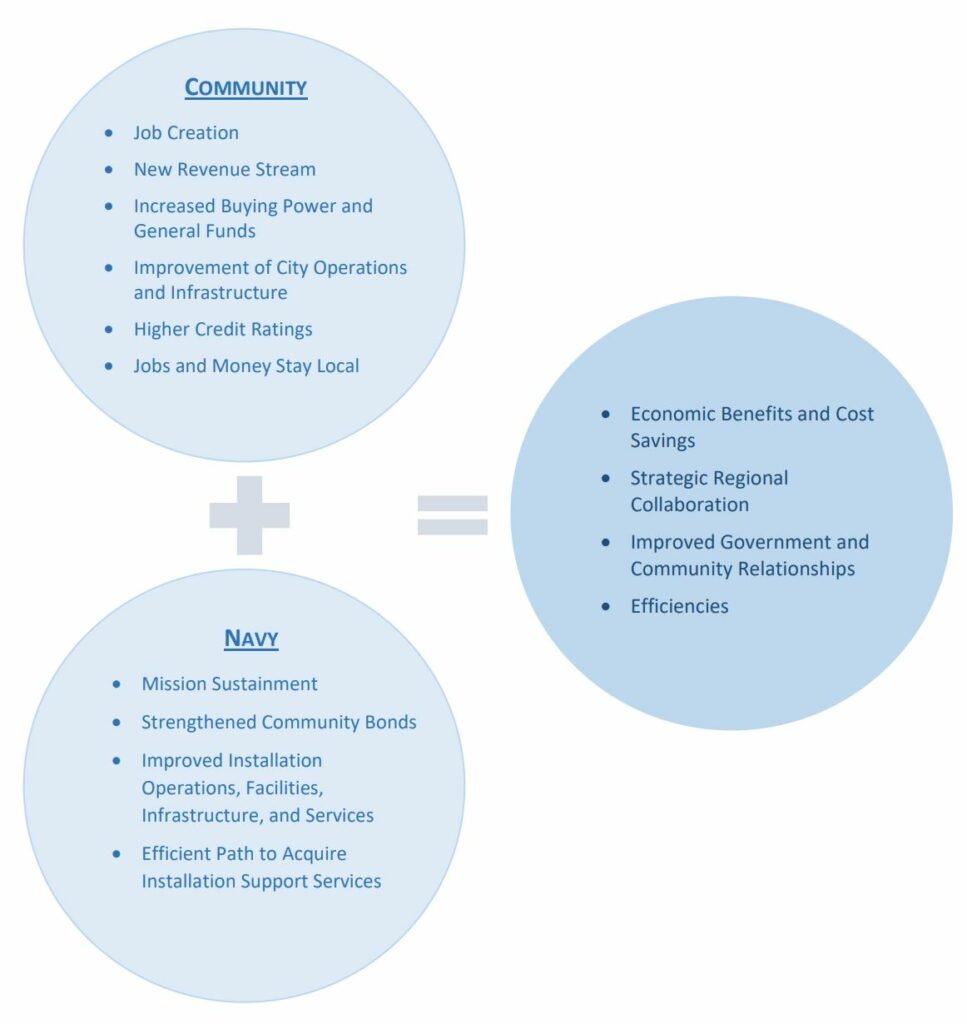 Key points for an installation to consider before using an IGSA include:
Focused on State or local governments and related organizations
Ability to sole-source (w/o competition)
May use wage grades normally paid by the State or local government
May not to exceed a term of ten years
Can only be used when the installation support service is already being provided by the State or local government for its own use
Any contract awarded by a State or local government to provide an installation-support service pursuant to an IGSA must be made on a competitive basis
No standard Navy form or format for an IGSA
No standard Navy form or format for an IGSA
Cannot be used to circumvent the requirements of Office of Management and Budget Circular A-76 regarding public-private competitions
Helpful IGSA Links
Potential Installation Support Services (Please note: These are types of IGSA concepts/services that may be explored by communities and the Navy when evaluating opportunities and may not all be available to NSA Crane at this time)